Sarah "Coletta L. Damage" Ingram is the owner and operator of a store called Startle. Among her many awesome options, she does "Dinky" designs of roller girls. I imagine this is intended for skaters who want a cute cartoon graphic of themselves.
But me? I'll never play roller derby but I'm vain enough to want one for a character from Kensei.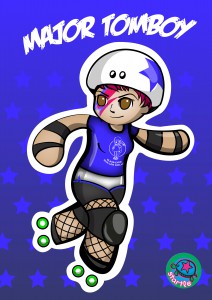 I am blown away by the awesome. And she did this in under a week! For very little money!
Added bonus? YOU CAN BUY STUFF WITH MAJOR TOMBOY ON IT. Keychain? Necklace? Stickers? Available! The only downside is that she's in the UK, so shipping to the States will probably be a little steep. But! Major Tomboy!